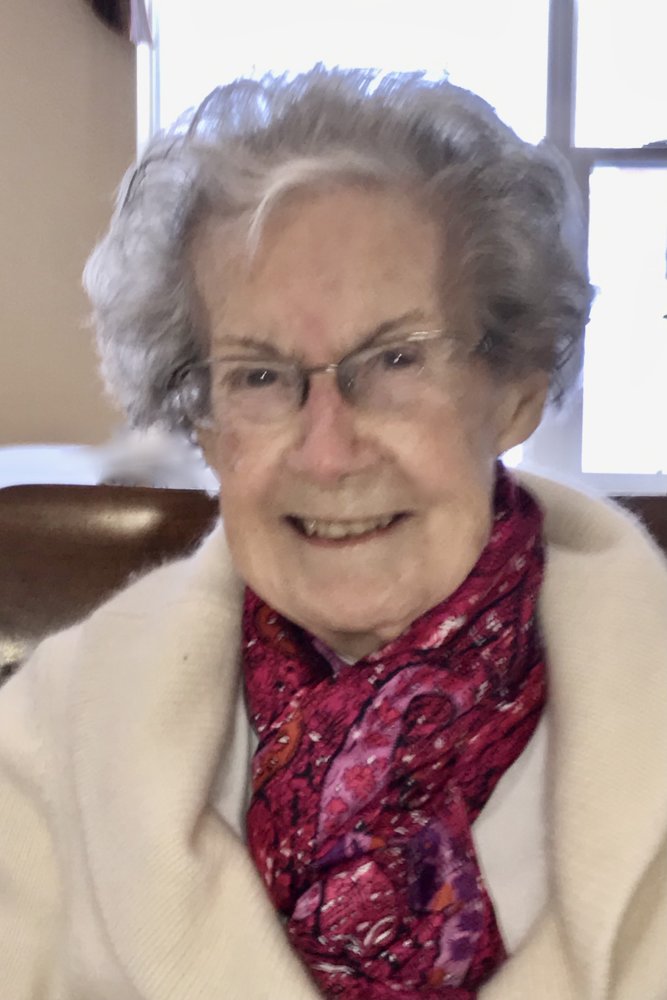 Share Your Memory of
Mary
Obituary of Mary Ione Cook
Mary Ione Cook died November 20, 2020, in Newton, IA. She was born June 9, 1925, to Myrna Mabee and Edwin Eugene McGregor on family-homesteaded land that is midway between Salem and Canistota, SD.
Growing up during the Dust Bowl and Great Depression, Mary attended country schools for five years as well as upper elementary classes in Salem. She graduated from Canistota High School in 1943 and earned a bachelor's degree in home economics at South Dakota State College (now University) in 1947. Mary later earned credits at the University of Iowa, Carleton College, and the University of Costa Rica.
She married Arnold Eugene Cook of Sioux Falls, SD on December 26, 1947. Henceforth, Mary's roles throughout their almost 70-year marriage included partner, homemaker, mother, teacher, and community participant.
Her teaching career included positions in Lennox and Valley Springs, SD, Jackson, NE, and Goldfield, IA. In later years, Mary worked at Brenton Bank and Trust in Clarion, IA.
In various locations, she served as a church Sunday school teacher, Girl Scout and high school youth group leader, and member of various church committees. Living in Clarion for 50 years, Mary belonged to the United Methodist Church, United Methodist Women, P.E.O. Chapter FS, Iowa Citizens for Community Improvement, Clarion Hospital Auxiliary, and the Democratic Party. In 2003, she was chosen as Woman of the Year by Clarion's chapter of the American Association of University Women.
Mary participated in the "Local Food" movement long before it became popular in its latest form. Whether as a young girl helping her mother can homegrown vegetables or making her own pickles and tomato juice from her husband's garden produce as she neared age 90, she preserved food for an estimated 75 years. Mary was a gracious hostess and prepared many delicious, healthy meals for family and friends. She also was a skillful and prolific seamstress. When in leisure, Mary loved to read, play bridge, dialogue with others, and travel.
Upon retirement, Mary and Arnold joined the Roving Volunteers in Christ's Service and worked for several months at Grace Community Church in Pharr, TX, as well as the Boys Ranch near Chandler, AZ. She and Arnold joined the Peace Corps in 1987. After three months' training in Costa Rica, Mary served there for two years in Orotina, teaching English as a Second Language (ESL). For a number of years afterwards, the couple wintered in the McAllen Texan Mobile Home Park. There, they taught Spanish to other residents and ESL on a volunteer basis in McAllen's public elementary schools.
In recent years, Mary lived in Newton, IA. She enjoyed new friendships and the excellent care by staff at Newton Village.
Mary is survived by her children: Marnie (Don) Lewellyn, Janet Cook of Austin, TX, Carolyn Barr Cook of Newton, IA, and Matthew Cook (Niels Nielsen) of Seattle, WA, as well as grandchildren who were precious to her: Bonnie Lewellyn of San Jose, CA, Loren Ross Lewellyn of Austin, TX, and Allen Cook Barr of St. Paul, MN. She was preceded in death by her parents, her husband, Arnold, brothers John, Lee (Dorothy) and Edd, as well as sisters-in-law Jean, Joy and Carol McGregor, and son-in-law Robert Barr.
A brief virtual service of remembrance will be held Saturday, November 28 at 11 am with Pastor Chad Jennings of Newton St. Luke UMC officiating. If you wish to attend, send an email before Friday noon to marycookservice@gmail.com and share your connection to Mary and/or her family.
Another service of remembrance will be held at a later date, when the pandemic is under better control, at the Clarion First United Methodist Church.
In lieu of flowers, the family requests that memorial donations be sent to P.O. Box 852322, Richardson TX 75085-2322; checks may be written to Mary Cook Family. Funds will be used for a tree to be planted in a community setting and for the Clarion Public Library.
The family extends deep gratitude to the Newton Village staff who generously gave Mary their skillful and open-hearted care.