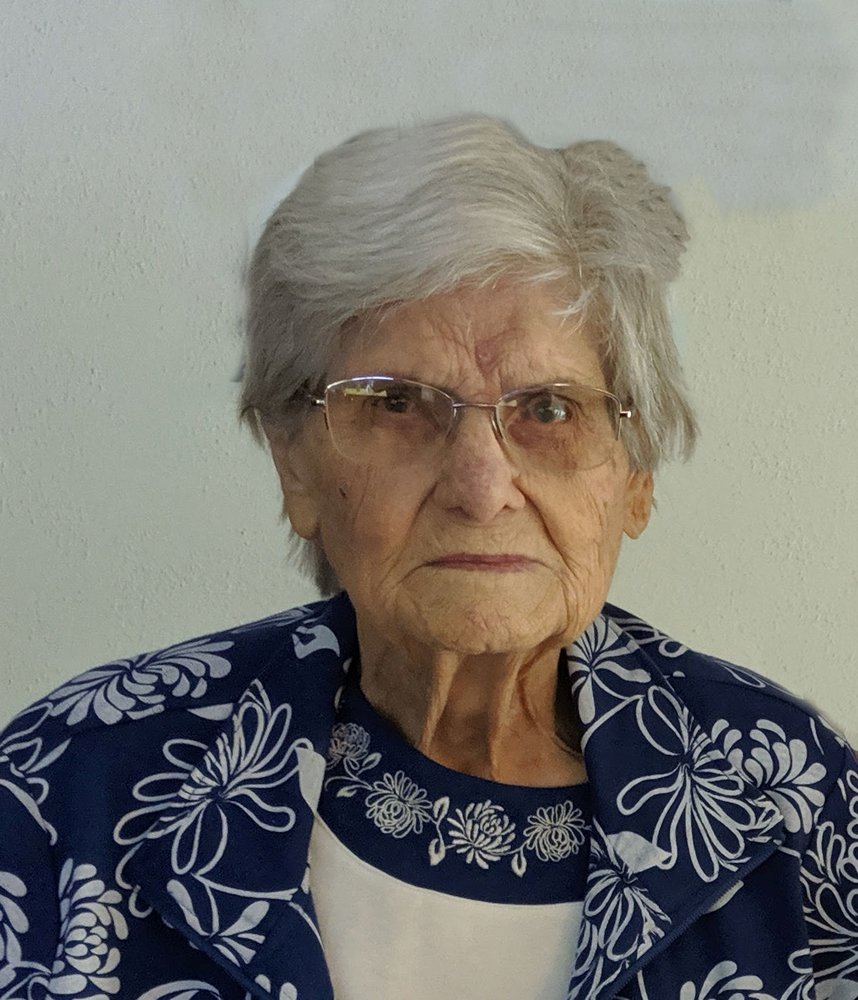 Share Your Memory of
Marjorie
Obituary of Marjorie Mae Lane
Marjorie Mae Lane passed away February 22, 2021, at Hospice of the Valley in Chandler, Arizona. She was 100 years and five months old. Marjorie lived her entire life in Jasper County until October 2019 when she went for an extended stay in Arizona, to spend time with her daughter, Barbara.
Marjorie was born September 2, 1920, in the Metz area to E. John and Merel Mae (Anthony) Hitchler. Marjorie's mother passed away when she was six years old. She was then raised by her father with the help of two aunts and grandma Benskin. Marjorie graduated from the Newton Senior High School in 1938. After completing Normal Training, she taught in the Mariposa Country School for two years. She married Philip Lane on January 19, 1941. They lived on a Maytag farm until March of 1945, when they moved to the Metz area to farm for Mel Miller.
Marjorie worked hard, all her life, helping Phil on the farm. She raised chickens for eggs and meat. She worked a big garden and preserved most of it. Her home was always clean and well taken care of, as were her husband and children. After Phil retired from farming, they both worked at Stuckey's for several years. Marjorie was a lifelong member of the Metz Community Church, which her grandfather, George Hitchler, help to establish in 1911. She served in many areas, over the years. Marjorie was also a member of the Sugar Grove Grange, the Sugar Grove Ladies Club, and Farm Bureau. In their retirement, Marjorie and Phil took bus trips, with their friends, seeing many parts of the country.
Marjorie is survived by her three children, Barbara Hug of Sun Lakes, AZ, Marvelyn (John) Adams of Metz, IA, and Dean (Joy) Lane of Metz, IA; her grandchildren, Cory Hug, John P. Adams, Julie Hug Chasse, Jennifer Adams, Mike Adams, Erik Lane, Richard Lane, and Katie Lane Simmons; her nine great grandchildren; her stepbrother, Robert (Judy) Hitchler and many nieces and nephews.
Marjorie was preceded in death by her parents; her husband, Philip; one granddaughter; one great granddaughter; her brother and sister-in-law, George and Mary Hitchler; two sisters and brothers-in-law, Marvel and Carl Clement and Marilynn and Jim Edgeton.
Graveside services will be held 1:30 p.m., March 6, 2021 at Metz Cemetery. A Facebook Live Broadcast will begin at 1:30 p.m. on the Pence Reese Funeral Home and Cremation Services Facebook page. Memorials may be designated to the Metz Community Church, Sugar Grove Cemetery, or your local Hospice and may be left at the Pence ~ Reese Funeral Home in Newton.
To send flowers to the family or plant a tree in memory of Marjorie Lane, please visit Tribute Store
Graveside Services
1:30 pm
Saturday, March 6, 2021
Sugar Grove (Metz) Cemetery
2351 W. 62md St. S.
Newton, Iowa, United States
Facebook Live Broadcast
1:30 pm
Saturday, March 6, 2021
Pence Reese Funeral Home & Cremation Services Facebook page
https://www.facebook.com/Pence-Reese-Funeral-Home-Cremation-Services-45841802308/
Newton, Iowa, United States