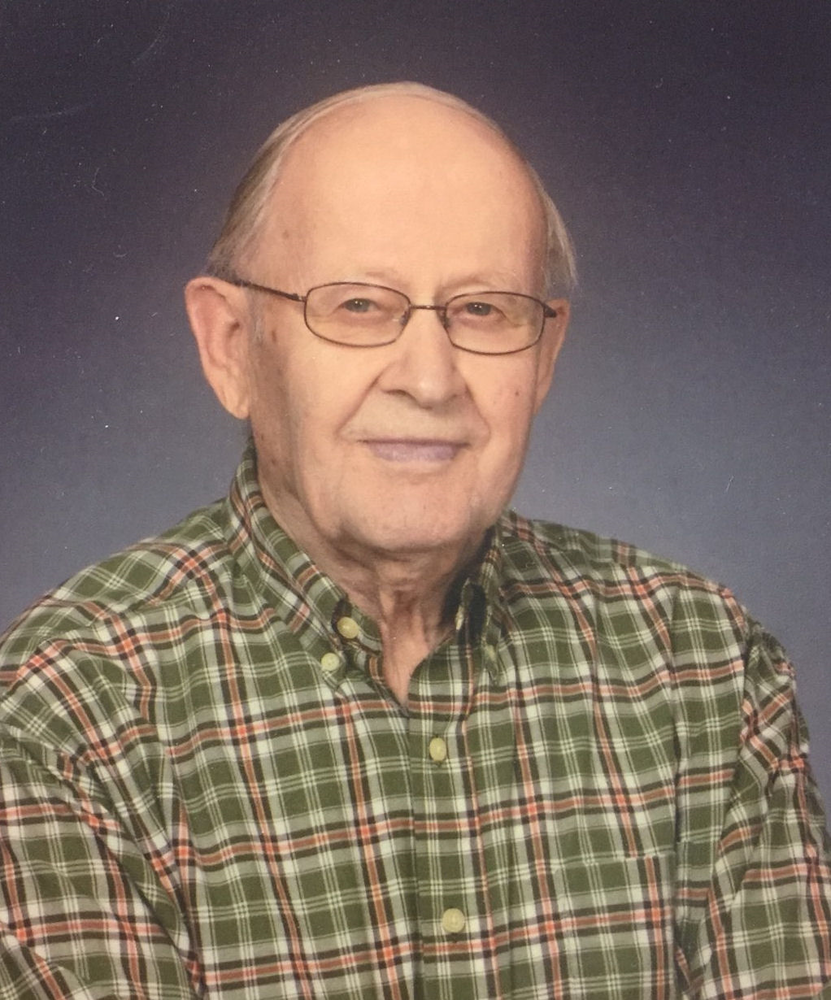 Share Your Memory of
George
Obituary of George Frederick Sjaardema
George Frederick Sjaardema, 91, was born October 29, 1929 to Joe and Marie (Van Gilst) Sjaardema in Bellflower, California. The family moved to Iowa in 1930 and eventually in 1931 moved to the farm near Reasnor. He attended country school and graduated from Newton High School in 1948. On November 28, 1951 he was united in marriage to Lucille DeJong in Sully, Iowa. They began their married life on that same Reasnor farm, living there for almost 69 years. They were parents to 6 children. He was a member of the Newton Christian Reformed Church serving faithfully in several capacities. George and Lucille proudly farmed full time and enjoyed traveling throughout the United States and in several other countries. One favorite trip was the drive to Alaska and all the way north until the road ended. In his spare time, he restored a few old John Deere tractors and a 1959 Chevy Impala which he enjoyed driving in the local parades. He enjoyed talking and visiting with friends and his family, especially his grandchildren and great grandchildren.
Those left to honor George's memory include his wife, Lucille Sjaardema; his sons, Verle Dean Sjaardema, Eugene Joe (Marla) Sjaardema, Dennis Lee (Sara) Sjaardema; his daughters, Lucinda Kay (Kenneth) Broadway, Georgia Lynn (Dan) Evenhouse, Linda Joyce (John) Subda; his twelve grandchildren; his thirteen great grandchildren; his sister, Alene Fopma and his brother-in-law, Richard Bruxvoort and many nieces and nephews. He was preceded in death by his parents, Joe and Marie Sjaardema, his sister Marilyn Bruxvoort, his brother-in-law Earl Fopma as well as Lucille's parents, Floris and Agnes DeJong and her sisters and spouses Elizabeth and Ivan Renaud and Cornelia and Don Den Adel.
A private family service will be held. A Facebook broadcast of the service may be viewed on the Pence Reese Funeral Home & Cremation Services Facebook page beginning at 1:30 p.m. Friday, November 27th. https://www.facebook.com/Pence-Reese-Funeral-Home-Cremation-Services-45841802308/?ref=settings
Memorials may be designated to Sully Christian School or the Newton Christian Reformed Church.
To send flowers to the family or plant a tree in memory of George Sjaardema, please visit Tribute Store
Facebook Live Broadcast
1:30 pm - 2:30 pm
Friday, November 27, 2020
Pence Reese Funeral Home & Cremation Services Facebook page
https://www.facebook.com/Pence-Reese-Funeral-Home-Cremation-Services-45841802308/
Newton, Iowa, United States
https://www.facebook.com/Pence-Reese-Funeral-Home-Cremation-Services-45841802308/?ref=settings