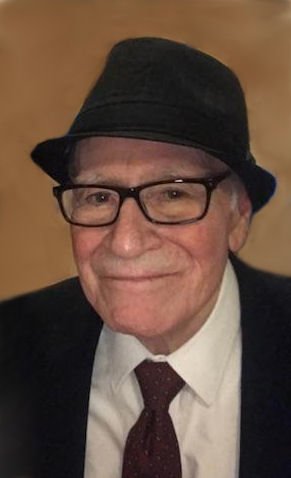 Share Your Memory of
Joseph
Obituary of Joseph S Urias
Newton lost a beloved member of our community on October 19th, 2020 when Joseph Sostenes Urias (Joe) passed away at Prairie Hills Senior Living in Des Moines.
Joe was born on August 5, 1930 in Newton Iowa to Sostenes and Avelina Urias of Sinaloa and Chihuahua, Mexico. He was very proud of his Mexican heritage, being a first generation Mexican-American. He graduated from Newton high School in 1948 with honors. He worked at Maytag for his entire career, working his way up from the Porcelain Department to a Senior Buyer. While working at Maytag he acquired his bachelor's degree in Business Administration at Drake University. Although he excelled in his career, his devotion was to his family. He married the love of his life, Lucy, in Newton on April 11, 1958 and together they built a family. Joe was a loving father who was proud of his children and always encouraged them to dream and to work hard to do whatever they desired.
Joe could often be found dancing with his wife Lucy, or with his children and grandchildren. He also spent many years performing and directing plays at the Newton Theater, coaching little league, camping, bowling and golfing. He was a committed member of The Moose Lodge for over 50 years, earning the highest honor in the organization, the Pilgrims degree. He was also a member of the Elks, and the Westwood golf course. He valued his catholic faith and was a long time member of Sacred Heart Church.
He is survived by his children, Mike (Annie) Urias, Ronald Dean (Sally) Urias, Teresa (Kent) Shirley, Chris (John) Heck, and Joe A. (Monica) Urias; his twenty-two grandchildren; forty-two great grandchildren; five great-great grandchildren; and his brother Sostenes Urias Jr. Joe was preceded in death by his wife Lucy; daughter, Pat Urias Parker; his granddaughter, Toni Botello; a great granddaughter, Morgan Malloy; his parents Avelina and Sostenes Urias; brothers Emigdio "Mickey" , Siolo, Jim Urias; and his sisters Mary Gonzalez and Dorothy Lockwood.
A Facebook Live Broadcast will begin at 1:30 p.m. Thursday, October 22, 2020 on the Pence Reese Funeral Home & Cremation Services Facebook page.
Friends may call at the Pence ~ Reese Funeral Home from 12 noon until 1:00 p.m. Thursday at the funeral home. The family will not be present. Memorials may be left for the family. Checks may be made out to Mike Urias.
To send flowers to the family or plant a tree in memory of Joseph Urias, please visit Tribute Store
Friends may call
12:00 pm - 1:00 pm
Thursday, October 22, 2020
Pence - Reese Funeral Home
310-N. 2 Ave.E.
Newton, Iowa, United States
The family will not be present.
Facebook Live Broadcast
1:30 pm - 1:50 pm
Thursday, October 22, 2020
Pence Reese Funeral Home & Cremation Services Facebook page
https://www.facebook.com/Pence-Reese-Funeral-Home-Cremation-Services-45841802308/
Newton, Iowa, United States
https://www.facebook.com/Pence-Reese-Funeral-Home-Cremation-Services-45841802308/