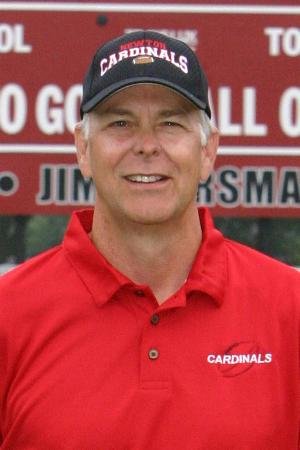 Share Your Memory of
John
Obituary of John D. Jenkins
John David Jenkins, 65, son of John Edwin Jenkins and Marijoe Cameron was born on May 26th, 1954, in the small river town of Lexington, Missouri. John later moved to Lee's Summit where he graduated from high school in 1972. He attended college at William Penn University in Oskaloosa, Iowa, where he played football for the Statesmen. He was a captain, a First-Team All-American, and earned a degree in education in 1976. John landed his first teaching and coaching positions in Pomeroy, Iowa, in 1978. There he met the love of his life, Jo (Jolene) Croonquist. They were united in marriage on March 21st, 1980, in Moorland, Iowa. John began teaching and coaching in Newton that same year and was the head football coach of the Cardinals from 1986 to 2002. John's philosophy of coaching was to ultimately build youth into men of character by getting them to give maximum effort in all aspects of their lives. He really coached life through the sport of football. A byproduct of his philosophy led to his becoming the winningist coach in Newton football history. Later he was inducted into the Iowa High School Football Coaches Hall of Fame, the William Penn University Hall of Fame, and he received the National College Football Hall of Fame Lifetime Achievement Award. One of John's favorite pastimes included fishing with family and friends. He often talked about how each bite on the end of his line made him "feel like a kid again". He loved fishing Lake of the Ozarks, local Iowa "hot spots", and the annual trip to Canada to name a few. John often caught "the biggest fish of the trip" but you wouldn't know it because he never talked about himself. He was an honest and humble man. He often spoke of his trip to Alaska as "the trip of a lifetime". This was evident by the look on his face when he caught Silver Salmon and Arctic Grayling for the first time. Being with his family while experiencing Alaska's beauty was one of the major highlights of his life. John also had a knack for finding four-leaf clovers and often did so on the football field. He attributed this "gift" to his time spent with his Grandpa Cameron growing up in Lexington, Missouri. John also loved listening to Christmas music year round. You could hear him listening to Bing Crosby and other favorites even in July. He also loved traveling, hunting, gardening, and mushroom hunting. Family and friends gathered annually in May to search Iowa's fertile soil for the sought after Morels. John was a detail oriented person and a great planner. One artifact to prove this is the "blue print" he left behind in one of his many file cabinets. In the document he left his wishes, advice, and a final "good bye". In it he described his family as the "Heart and Soul" of his life. As a life long teacher and coach he would be happy to share some this information with family and friends. This is a small excerpt from what John wrote at the age of 39. "I will miss my life on earth with you, but remember that dying is just a brief and passing phase of eternal life. I look forward to our next great adventure. I know in what's ahead I'll find even greater enlightenment, peace, and love with you all." John is survived by his wife Jo "Jolene" of Newton; his children, Jason and daughter Josie of Prairie City, Jake (Haley) and daughter Clara of Oskaloosa, and James of Newton. He is also survived by his stepmother Patricia "Pat" Jenkins of Lake Ozark, MO; Aunts, Judy Cameron and Jan Grubish of Henderson, NV; siblings Brenda Lee (Ed) Kautz of Morrison, CO, James "Curt" Jenkins of Warrensburg, MO, Joel Tracy (Kay) Jenkins of Littleton, CO, Jill Jenkins McIntosh of Columbia, MO, and several nieces and nephews. John's struggle with dementia ended on February 8th, 2020, at 6:15am. In lieu of flowers, a memorial has been set up for a scholarship in John's honor. Donations may be sent directly to the family.
Celebration of Life Open House
3:00 pm - 6:00 pm
Tuesday, February 18, 2020
McCann Center
1115 S. 8th Avenue E.
Newton, Iowa, United States

Get Directions
Funeral Mass
10:30 am - 11:30 am
Tuesday, February 18, 2020
Sacred Heart Catholic Church
1115 S. 8th Avenue E.
Newton, Iowa, United States

Get Directions