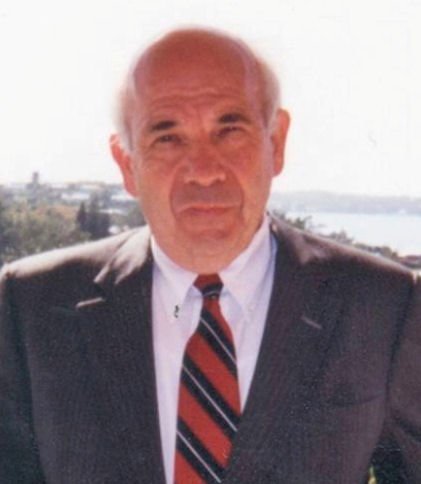 Obituary of Don Costanzo
On Monday, January 21, 2019, Don Costanzo, loving husband, father, grandfather and great grandfather, passed away at the age of 84 in Gold Canyon, Arizona. Don wrote his autobiography as part of his book, The Costanzo Chronicles. Here is Don's life in his own words…
I was born on April 7, 1934 in Bradford, Pennsylvania. This was the first best day of my life! I was the son of Crescenzo and Vincie Piscitelli Costanzo. We lived in Lewis Run, Pennsylvania in the home built in 1915 by my grandparents, Concetto and Olympia Costanzo. I was the youngest child of seven; Carl, Albert, Olympia, Joseph, Theresa, and Jeanne. My grandparents on both sides of the family, Concetto and Olympia Costanzo and Humberto and Anna Piscitelli, were Italian immigrants who came to the United States in the early 1900s. By coincidence my father and my mother's mother were both born in Pettorano sul Gizio, Italy.
I lived, grew up, went to school and worked in Lewis Run, Bradford, State College, Pennsylvania; Newton, Iowa, and Gold Canyon, Arizona during the time of the Great Depression, World War II, the Nazi Holocaust, the Korean War, the Vietnam War, the Cold War, the two wars in Iraq, the introduction of television, computers, and the atomic bomb. I saw man walk on the moon for the first time in 1969 and watched in awe in 2004 as robot rovers traveled on the surface of Mars, two million miles from Earth, and space probes sent back unbelievable photographs of the planet Saturn 2.2 billion miles from away.
As a teenager I was a stable hand at the Valley Hunt Club, a golf caddie and swimming pool cook at the Pennhills Country Club, and an artist for the Zippo Lighter Company. In 1953 I enlisted into the US Army to serve in the Korean War. After getting honorably discharged in 1955 I went to Pennsylvania State University and played football for one season while earning my Bachelor of Arts degree. From 1959-1999 I worked at four companies: Zippo as an Artist, Assistant Advertising Manager, and Direct Mail Manager; Sypco Advertising Agency as Vice-President; Federated Home & Mortgage as Assistant Vice President; and from 1972-1999 was the Director of Marketing and Product Development for the Vernon Company… From 1967 – 1972 I had my own advertising company, DJ agency, and worked part-time at Hendrix Architecture and Bradford Printing Company on nights and weekends.
On October 10, 1959, the second best day of my life, I married my wife, Shirley Dressler Costanzo. We have four children; Kristen Luther, Elizabeth (Morrison) Costanzo, Jennifer Mann, and Don Jr. Their births were the 3rd, 4th, 5th and 6th best days of my life. Between them we have nine grandchildren and one great grandchild. Shirley and I have been married 59 years – the best 59 years of my life.
I think God, "The Big Guy Upstairs," picked me out for success in life and to also be his messenger for others to see that you can make it in life by believing in God, working hard, having fun, being honest, and enjoying life every day that you are living in his world.
Don believed in giving back to his community and demonstrated his commitment to service in numerous ways. While living in Bradford, Pennsylvania he was in the Kiwanis, Knights of Columbus, United Way, Italian Mutual Aid Society, the YMCA, and chairman of the advisory board for Model Cities. His contributions to Newton, Iowa included being on the Board of Directors for the YMCA, Newton Country Club, Newton Chamber of Commerce, and the Newton United Way. In addition, Don coached numerous youth sports, served as vice-president of the Newton-Kellogg PTA and volunteered for the annual Cancer Crusade and the new YMCA and high school building fund drives.
After his retirement to Gold Canyon, Arizona in 1999 Don used his artistic talent, history research, and religious studies to create a series of ten paintings featuring the creation of our Planet Earth and the development of all living things, mankind, architecture, transportation, religions, governments, warfare, natural disasters from 4.5 Billion BC until 2100 AD. You can see the Art of Don Costanzo on his website https://teaching-world-history-with-art.weebly.com/ .
At age 80+, Don was still an active sportsman (golf, tennis and walking), artist, writer and new product developer. In 2014 Don had his 6th hole-in-one, shot his age in golf 80, and completed his 3,000 mile walk across the USA, all this after suffering four strokes from 2008 to 2011.
Don was preceded in death by his parents; his sister, Olympia; his brother, Albert; his sister, Jean and his brother, Carl.
Don is survived by his wife Shirley, children Kristen (Keith) Luther of Naperville, IL, Elizabeth of Washington, DC, Jennifer (Wayne) Mann of Newton, IA, and Don, Jr. of Tampa, FL, nine grandchildren (Lindsey (Kyle) Sieck of Iowa City, IA, Courtney Luther of Naperville, IL, Chloe (Matt) Broad of Chicago, IL, Carley Morrison of St. Louis, MO, Morgan Mann of West Des Moines, IA, Madison Mann of Newton, IA, Holly Morrison of St. Louis, MO, Gabriella Costanzo of Oklahoma City, OK and R.J. Morrison of St. Louis, MO), and one great-grandchild Rosemary Sieck of Iowa City, IA. He is also survived by his brother Joe (Peggy) Costanzo of Bradford, PA, sister Theresa (Joe) Bucci of Elmira, NY and many nieces and nephews. Don will be missed by his beloved family and dear friends.
A Celebration of Life service, family greeting and luncheon will be held on Saturday, February 23 from 11:00 a.m.-1:30 p.m. Services will begin at 11:00 a.m. at Pence-Reese Funeral home in Newton, IA.
In lieu of flowers, condolences and Disabled American Veterans (DAV) memorial donations in honor of Don can be made on line at www.pencefh.com or brought to the funeral home.
Click here for the Disabled American Veterans (DAV) memorial donations link