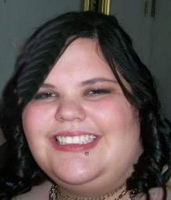 Whitney Jade Miller
Whitney J. Miller
Newton, Iowa
Whitney Jade Miller, 32, the daughter of Berlou Joe Barnard and Brenda D. Miller, was born November 8, 1990, in Iowa City, Iowa. She was a graduate of the Lynnville-Sully Senior High School.
Whitney died on Saturday afternoon, March 4, 2023, at the University of Iowa Hospitals in Iowa City. She was preceded in death by her mother Brenda.
Whitney enjoyed crocheting, crafts and her music. She was employed by Mom's Meals, Call Center in Ankeny.
Pence ~ Reese Funeral Home in Newton, have been entrusted with the arrangements.
Memorial Funeral Services will be 2:00 p.m., March 13, 2023, at the Lynnville, Iowa Friends Church, with a visitation to follow with a coffee time. Burial will be in the Hewitt cemetery, rural Reasnor, Iowa. Memorials may be left to Whitney's family or to a charity of your choosing.
Those left to honor Whitney's memory include her sisters: Tanya R. Miller, Shannon Miller and Ashley Durant; her father Berlou; her grandmother Eileen Miller; and many extended family and friends.