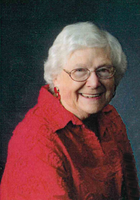 Mary Ann Iske
Mary Ann Iske
Mary Ann went home to be with her Savior on Wednesday, November 23, 2022, at Newton Healthcare.
A time of remembrance and celebration of life will be 11:00 a.m., Thursday, December 1, 2022, at the First Lutheran Church in Newton. Pence ~ Reese Funeral Home in Newton, are entrusted with the arrangements. Visitation will be at the church, an hour prior to the services. Burial will be in the Newton Union Cemetery. In lieu of flowers memorials may be designated to Mary Ann's family.
Mary Ann Iske, 93, the daughter of Edward and Rena M. (Anderson) Lloyd, was born November 23, 1929, near Fort Dodge. She was a high school graduate, Class of 1947. She attended Drake University in Des Moines and several years at Iowa State, receiving her Teaching Certificate. She went on to teach country school in Jasper County, for several years.
On May 25, 1957, Mary Ann was united in marriage with Elmer Louis Iske at the First United Methodist Church in Newton. She devoted her life to her husband and family. She always had helped her husband Elmer on the farm. She was a past member of the First United Methodist Church, and present member of the Newton First Lutheran Church. She was a past member of the Oak Ridge Grange, Jasper Pomona, State and National Grange, Jasper County Farm Bureau, of which she was Women's Chair and co-chair for several years and a member of R.S.V.P. for many years, which she enjoyed.
Mary Ann was preceded in death by her parents; her husband Elmer; and four brothers: Edward, Richard, Donald and Robert Lloyd.
Mary Ann is survived by her sister Delores M. Butler; her three brothers: James (Beverly) Lloyd, Larry (Ruth) Lloyd and Tom Lloyd; sisters-in-law: Vera, Elspeth and Marla Lloyd; her many nieces and nephews; and many good neighbors and friends.