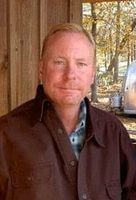 Hugh Cincaide Gouthro
Hugh Cincaide Gouthro born January 27, 1963, died December 3, 2013. Grandson of William and Carolyn Brouhard, who owned Brouhard Funeral Home in Zearing Iowa for 35 years, and son of Sharon (Brouhard) and James Gouthro of Chandler, Arizona.
A graveside service will be held 11:00a.m. on August 17, 2022, in the Zearing Cemetery, Zearing, Iowa.