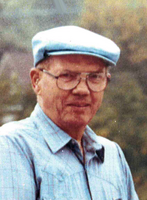 Ralph Herman Ficken
Ralph Herman Ficken, 97, (formerly of Melbourne), passed away Sunday evening, July 3, 2022, at MercyOne Newton Medical Center.
Ralph was born in Eden twp., on his family's farm, near Rhodes, Iowa on July 30, 1924, the son of Arthur and Bertha (Probst) Ficken. As a boy Ralph attended school in State Center until 8th grade after which he helped run the family farm. Later he was employed by Fisher Controls where he was a member of UAW local 893 in Marshalltown, from which he retired after 20 years of service. A few years after retirement he moved to Newton from where he met his wife Mrs. Wilma Stidham. They were married on July 13, 2000, in Rock Island, Illinois, during one of their many trips together.
Ralph was also a member of the Jasper County Gun Club and loved going pheasant and duck hunting when he wasn't trap shooting on the weekends. Other hobbies included traveling and going to bluegrass music festivals.
From a young age Ralph was active in the Lutheran church and knew Christ as his personal savior. In the latter part of his life he attended the Foursquare Church in Newton, when he was able.
He was preceded in death by his parents; his wife Wilma on December 23, 2021; brothers, Floyd, Earl, Ervin and Paul; and sisters, Delores, Lavon, and Dorothy.
Left to mourn his loss are children: Sherry (Will) Moon, Sheila (Leroy) Staub, and Randy (Sandy) Stidham. Grandchildren – Rick Vos, Alana (Alan) Bates, Raven Moon, Ruby Moon, Chris (Maggie) Stidham, Caleb Stidham, and Cody Stidham. Two great grandchildren - Makenna Bates and Madelyn Pietz; many nieces and nephews; and his many extended family and friends.
Funeral services for Ralph will be 11:00 a.m., Saturday, July 9, 2022, at the Pence ~ Reese Funeral Home in Newton, with a visitation one hour prior to the services. In lieu of flowers, memorials may be designated to International FOXG1 Foundation for genetic research at www.FOXG1.org, or to a charity of your choosing. Burial will be in the Hewitt Cemetery rural Sully.