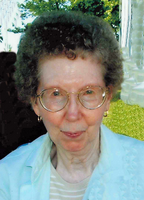 Waneta M. Rodgers
Waneta M. Rodgers 97, was born August 7, 1924, near Centerville, Iowa, the daughter of Eugene C. and Vernice Lee (Wages) Baler. She was a high school graduate.
On February 13, 1959, Waneta was united in marriage with Richard P. Rodgers. Over the years she was employed by Newton Manufacturing as a clerk, retiring in 1980. She enjoyed her grandchildren and great-grandchildren and friends.
Waneta passed from this life on Monday, June 20, 2022, at the MercyOne Newton Medical Center. She is survived by her daughter and son-in-law Sharolyn and Carrol Wheatcraft; her three grandchildren and six great-grandchildren; two step-sons: Larry Rodgers and Steve Rodgers; a sister-in-law Marge VerShur; and her many extended family and friends.
She was preceded in death by her parents; and her husband Richard on December 27, 2005.
A time of remembrance and a graveside service will be at 11:00 a.m., Monday, June 27, 2022, at the Newton Memorial Park Cemetery, conducted by Pastor Bob Simons. No visitation is planned. Pence – Reese Funeral Home in Newton has been entrusted with the arrangements.
In lieu of flowers, memorials may be left to Waneta's family or a charity of your choosing.