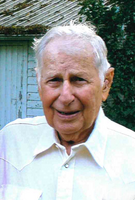 Donald Arthur Swihart
Donald Arthur Swihart, 93, was born June 19, 1928, on the family farm. The son of Arthur and Nellie (Harris) Swihart, he was a graduate of the Newton Senior High School, Class of 1946. He served his country as a Sargent with the US Army during the Korean Conflict.
On November 26, 1949, Don was united in marriage with Dorothy Ann Gill, at the Saint Mary's Catholic Church in Grinnell. They farmed and lived on the same farm his grandfather and father before him did. He was a loving husband, father and friend. Don was a member of the Newton Congregation United Church of Christ, Newton V.F.W. Post #1655 and American Legion Post #111. He will be greatly missed by those who knew and loved him. He enjoyed the farm and he had planted wildflowers on his 250 acres.
Don is survived by his sons: Dan (Kay) Swihart, Dave (Deb) Swihart and Duane (Dianna) Swihart; his four grandchildren: Kris (Kasie) Swihart, Emily Swihart, Kaleb Swihart, Alex Swihart; his six step grandchildren: Melissa (Gary) Pearson, Amy McDermott, Eric Grife, Ryan (Megan) Flattery, Sara (Nick) Tiedje, Van (Maddy) Flattery; several great-grandchildren; several step great grandchildren; one step great-great granddaughter; his sister Virginia Mee; his sister-in-law Carmen Gill; his brother-in-law, Vernon Jones; and his many friends.
Don was preceded in death by his parents; his wife, Dorothy, on Nov. 21, 2013; his sister Jean and his brothers-in-law, Nick and Bill. Donald passed from this life on Friday, February 18, 2022, on the family farm in rural Baxter.
A time of visitation; remembrance and celebration of life will be 10 a.m. until 11:30 a.m., Wednesday, February 23, 2022, at the Pence – Reese Funeral Home in Newton, with a Private Family Graveside follow.
The family of Don's wants to thank you for attending today to celebrate with us his life. In lieu of flowers, memorials may be left in Don's name (Please make checks payable to Duane Swihart) and may be left at the funeral home.