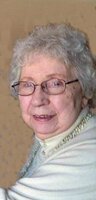 Marjorie Ann Braley
Marjorie Ann Braley
Ann Braley of Newton passed from this life on Sunday evening, November 21, 2021, in Des Moines
Marjorie Ann Braley, 91, was born January 4, 1930, near Newton, the daughter of Ray L. and Mary Ethel (Barbee) Walker. She attended Newton Senior High School.
On August 24, 1959, Ann was united in marriage with Beryl O. "Bud" Braley in Unionville, Missouri. She had three children: Rosa Marie, Constance L. and Paul. For over twenty years, she was employed by Winpower Manufacturing, owned A&B Antiques and enjoyed flea markets, coffee with friends, crossword puzzles, Nintendo games on her I-Pad and Garage sales. Ann was a good wife, mother and friend; she will be missed by those who knew her. She had attended Metz Community Church and the Bar-None Cowboy Church.
Ann is survived by her daughters: Rosa Marie Tompkins of Kentwood, Mich. and Constance L. (Gene) Bacon of Clinton; her daughter-in-law Joyce Williams of Cashmere, Wash.; her four grandchildren and five great-grandchildren; a brother Lt. Col. Ret. Maurice Walker of Fair Oaks, CA; and her many extended family and friends.
She was preceded in death by her parents, her husband Beryl "Bud" on November 29, 1991; her son Paul Williams; a brother Max Walker; sisters: Madge Gilbreath, Harriet Cupples and two in infancy.
A time of remembrance and celebration services will be at 1:00 p.m., Tuesday, November 30, 2021, at the Bar-None Cowboy Church. Burial will be in the Newton Union Cemetery, conducted by Pastor David Rex. No visitation is planned. Pence – Reese Funeral Home in Newton has been entrusted with the arrangements.
In lieu of flowers, memorials may be left in Ann's name to Newton Christian School, Bar-None Cowboy Church, Metz Church or a charity of your choosing.
Online condolences may be left at: www.pencefh.com.