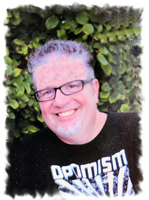 Eric Curtis Smith
Eric Curtis Smith, 45, of Newton, Iowa, passed away on Thursday, August 19, 2021, after several years of battling health issues.
Eric, the son of Dennis and Pam (Diamond) Smith, was born November 5, 1975, in Des Moines, and was a lifelong resident of the Newton area, where he had worked and resided.
He was a graduate of the Newton Senior High, Class of 1994. Eric was employed in customer services by several local business. Eric was a friend to all who knew him. When he made a friend, they were a friend for life. He shared his love for many things with others. He loved singing, karaoke with friends, WWE, Star Wars, Avenger movies and shared the love of the Cleveland Browns with his dad. He loved Dad Jokes, off color humor and theater. He also enjoyed going to concerts and music festivals with friends. As a teenager, he and a friend also volunteered as honorary girl scouts, so he could get into the concert of his favorite entertainer, Billy Joel. He was extremely proud of his two daughters and was not afraid to tell anyone he met about their accomplishments.
Eric knew and loved Jesus and is now free from any pain and struggles and is now experiencing God's perfect love and grace first-hand. He attended St. Luke United Methodist Church, and devoted his life to his girls and family. He will be missed by so many friends and co-workers and his loving family.
Eric is survived by his mom and dad, Dennis and Pam Smith of Newton, his daughters, Zoe and Ava Smith, both of Ankeny, a stepdaughter Allison Allen; his sister and nephew, Autumn and Preston Smith of Ankeny. Surviving also are his grandmother, Doris Diamond of Newton and grandfather, Bill Barger of Marshalltown, as well as many aunts, uncles and cousins.
He was preceded in death by his grandfather, Dean Diamond, and his grandmother Eleanor Barger. Pence ~ Reese Funeral Home in Newton, are entrusted with the arrangements.
A memorial service will be held 10:30am, Saturday, August 28, at St. Luke United Methodist Church in Newton. Coffee time and a light lunch with the family will follow the service. Private interment service of ashes will be held at a later time. Memorials can be left with the funeral home or the church.