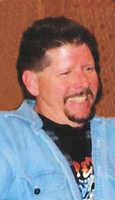 Russell William Danley
Russell William Danley, 61, the son of William Albert and Shirley Louise (Simpson) Danley, was born July 10, 1959, in Newton. He attended the Newton Senior High School, prior to serving his country for several years with the US Army.
Private Family funeral services for Russ will be Wednesday, March 3, 2021, at the Pence ~ Reese Funeral Home in Newton. Friends may call at the funeral home 11 a.m. until 12 noon, on Wednesday. In lieu of flowers, memorials may be designated to Russ' family, or to a charity of your choosing. Burial will be in the Sugar Grove (Metz) Cemetery in rural Newton.
Russ enjoyed painting and studying under Bob Ross, he enjoyed the outdoors, was a passionate Green Bay Packers fan, a golfer, a fisherman, and could often be found riding his Harley when he was not at home. He was always smiling, laughing or joking around with someone. Anyone who knew Russ knew that he was the most loving father a family could ask for.
After the Army, he was employed at Nickerson Farms, was an ER Technician at Skiff Medical Center, employed by The Iowa Pack in Des Moines, and retired as a certified specialty welder for Vermeer Manufacturing in Pella.
Russ peacefully passed away on Wednesday morning, February 24, 2021, at his home in Newton. He was surrounded by his family and under the care of Midwest Hospice.
Russ was preceded in death by his parents; his siblings: Rodger, Jackie and Tom; and a niece Crystal.
Those left to honor Russ' memory include his children: Chad, Chelsey and Chamberley; his seven grandchildren: Kohen, Cheyenne, Suraya, Caymen, Jaxx, Cadence and Nolan; his brother John K. Danley; his sisters-in-law: Carolyn and Laura; and his many friends. A Facebook Broadcast of the Funeral service for Russ will be held at 1:30 pm, Wednesday, March 3, on the Pence ~ Reese Funeral Home and Cremation Services Facebook page.