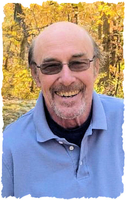 Fred M. Farmer
Fred M. Farmer, the son of Chester and Helen (Christiansen) Farmer was born September 17, 1949, in Waterloo, Iowa. He graduated from Knoxville High School and continued his education at Wentworth Military Academy in Missouri.
On June 26, 1970, Fred was united in marriage to Joyce Davis in Clemons, Iowa. Fred worked as a foreman at Armstrong Tire in Des Moines, Iowa from 1973 until 1998. He was a member of Soteria Church in West Des Moines, Iowa. Fred enjoyed his family, woodworking and mentoring individuals.
Fred died on Tuesday, December 22, 2020, at Iowa Methodist Medical Center in Des Moines, Iowa. He was 71 years old. He was preceded in death by his parents.
Those left to honor Fred's memory include his wife, Joyce of Waukee, Iowa, his daughter, Angela Laybon of Des Moines, Iowa and her children , Anthony Laybon of Norwalk, Alyssa (Austin) Dragoo of Grand Forks, ND, Andrew and Ashlyn Laybon of Norwalk; his son, Eric (Kari) Farmer of Ankeny, Iowa and their children, Emma, Adilyn and Ian Farmer; and his son, Jeremy (Mandy) Farmer of DeSoto, Iowa and his sons, Vinton and Titus Farmer.
A visitation with the family will be held from 5:00 until 7:00 p.m., Monday, December 28th at Soteria Church, 3250 SE Soteria Avenue, West Des Moines, Iowa. Social distancing will be observed, and masks are required. A public funeral service will be held at 10:30 a.m. Tuesday, December 29, 2020, at Soteria Church. A Facebook Live Broadcast of the service will begin at 10:30 a.m. on the Pence-Reese Funeral Home and Cremation Services Facebook page. Memorials in Fred's name (payable to Joyce Farmer) may be left at the church or the funeral home.