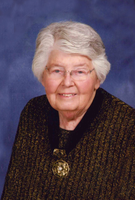 A. Ruth O'Brien
Alice Ruth O'Brien, the daughter of Lawrence and Nelle (Myers) Pope, was born August 28, 1924 in Plains, Kansas. She graduated from the Mingo, Iowa Senior High School. On January 6, 1951, Ruth was united in marriage with Michael Emmett O'Brien in Georgetown, Iowa.
Ruth had worked for the Maytag Company, during WWII, making airplane parts; she went on to work for Stockton Super Value and then for the Maytag Company once again. She retired from the Supply Department in 1986. Family was especially important to Ruth and she enjoyed getting together with family as often as possible. Ruth enjoyed quilting, reading, birdwatching, puzzles, sewing, card games and was regarded as the best cook ever by her family and friends. Ruth was a member of the Sacred Heart Catholic Church, the Izaak Walton League Ikettes, and the Moose Lodge. She was also involved as a 4H Leader and the PTA.
Ruth died on Thursday, December 17, 2020 at Park Centre Health Care in Newton. She was 96 years old. Ruth was preceded in death by her parents; her husband; her brothers, Ray Pope and Tom Pope and her sisters, Rose Johnson, Jessie Watson, Doris Rice, and Helen McNelly.
Those left to honor Ruth's memory include her daughters, Jeannine (Dave) Ringgenberg and Colleen (Scott) Curry; her grandchildren, Ben Ringgenberg, Seth (Anita) Ringgenberg, Connor (Olivia) Ringgenberg, Jon Warnick, Mike (Sara) Warnick, Jessica Curry, Spencer (Lauryn) Curry; her great grandchildren, Brady Black, Ian Black, Dezmond Rogers, Johnny Sexton, Dane Warnick, Trey Warnick; her brother, Dale Pope; her sister-in-law, Betty Pope and many nieces and nephews.
A public visitation for Ruth will be held from 5:00 until 7:00 p.m. Tuesday, December 22, 2020 at the Pence ~ Reese Funeral Home in Newton. Social distancing will be practiced, and masks are required.
A Facebook Live Broadcast of Ruth's service will begin at 10:30 a.m. Wednesday, December 23, 2020 on the Pence Reese Funeral Home & Cremation Services Facebook page. Memorials may be designated to the Sacred Heart Catholic Church or the Plains Friends Church and may be left at the Pence ~ Reese Funeral Home.