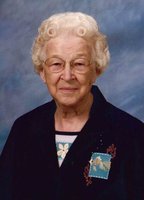 Petronella Cornelia "Nellie" Barwegen
Petronella [Nellie] was born on July 25, 1927 in Ermelo, Holland. Her parents were Wympje and Nui Dekker. She had three other brothers, Bertus, Nico and Ben. Nellie passed away on Nov. 24, 2020 at the age of 93 in Newton, Iowa.
Nellie was 13 years old when the Germans invaded Holland in 1940. The Nazi SS occupied Holland for five years! She couldn't attend school for more than 2 years because it was just too dangerous. Nellie was always very thankful to the Allied forces for liberating them. Because of the war, Nellie was very thrifty and never wasted a bit of food, even to her last days. She could recycle anything!
Nellie finished high school after the war ended. She was very gifted in tailoring and worked at an institution for the handicapped where she made custom clothing for the patients/residents. The institute was in her hometown of Ermelo and her father worked there too. Nellie was a master seamstress and could create exceptional clothing out of virtually any material. She enjoyed knitting, crocheting and was an avid reader. She was also a master gardener who could grow anything! Her home was always filled with a variety of beautiful and exotic plants.
She met Jan [John] Barwegen while he was on a visit back to Holland in 1957. John came from Friesland, Holland and immigrated to the U.S. in 1948. They were married on Apr. 4, 1957 in Holland. Nellie later came to America to join John and moved to a dairy farm with Jan in rural Prairie City. It was a new country, and she did not know English. Nellie learned English from having other Dutch immigrant friends over for tea-time, watching television and from reading the newspaper. Later, they moved to Newton when John got a job at Maytag. Slowly, she started to master the English language and attended citizenship classes in Newton. She became a U.S. citizen in the early 1960's.
Nellie was preceded in death by her husband John Barwegen [in 2014] and two brothers in Holland: Bertus and Nico Dekker. Nellie is survived by a brother, Ben [Frieda] Dekker. Daughters Winnie [Mike] Rye and Nancy Barwegen. Grandchildren Tim Barwegen, Attalie Rye & Shaelya Rye White. Great grandchildren: T. J. Barwegen; Aria and Nevaeh White.
Nellie was a wonderful wife, mother and friend. She was always willing to learn and figure out how to do things better. Nellie had the wonderful gift of hospitality and she made many friends. Her door was always open to new neighbors and new folks attending church. She always looked out for the underdog. In the 70's, she and John were foster parents; they provided a home to a few teenagers. This was a big challenge, but Nellie did it with grace.
She was always a great encourager and always provided great moral support; she rarely complained about a situation. Nellie came to Nelson Manor on Dec. 29, 2011 and remained there for nine years until she passed away. She was a member of Newton Christian Reformed Church.
Nellie has a beautiful spirit and has always been kind and gracious to family, friends, and strangers alike. Her strong love for Jesus has blessed her entire life.
A memorial service will be held on Sat., Dec. 12 at Pence Reese Funeral Home. Due to COVID, it will be family only, but on-line video will be available on the Pence Reese FaceBook page. No flowers please. Instead, designate a monetary gift to Newton Christian School. All cards/gifts may be sent to the Pence Reese Funeral Home, 310 N. 2nd Ave. E., Newton, IA 50208.