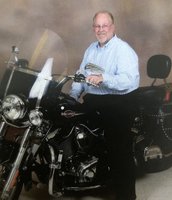 John Emery Claussen
John Emery Claussen was born on May 20th, 1960 in the metropolis of Killduff, Iowa to local celebrity Stub Claussen and his wife, master of hospitality, Pauline. John had two older sisters who spoiled him and three older brothers who taught him the art of a good scary story, how to tell a joke, and how to blame the other for breaking the fish tank with a marble; according to John, it was always Walt's fault. He also had several cousins who were like siblings. He always told the story of how he, Walt, Bobby, and Guy would get into trouble, but only he and Walt got the spankings because Guy & Bobby were 'perfect' grandchildren.
John graduated from Lynnville-Sully in 1978 where he was literally the Kevin Bacon of his school. He lobbied for prom and ultimately won and would never let you forget it when the song "Footloose" came on.
He met the love of his life, Cindy (Cox), in 1977 when his brother introduced him to his girlfriend Lori's sister. They were married in 1982 and from then on would have to explain that brothers married sisters but in a legal way. John and Cindy enjoyed taking walks at Lake Marie and camping with family. You could often find them hanging out and laughing with Walt and Lori, and Craig and Lysia Peters. They especially enjoyed people-watching which is probably why they moved so close to the Iowa State Fair grounds. John and Cindy just loved laughing together.
John was the lead singer of a famous local band called Ashes of Country where his strong vocals and personality shined through. He sang all kinds of music, but loved The Beach Boys above all. He also played a mean tambourine.
John and Cindy had five children; Nathan, who was born to fly, Jennifer, Gabriel, Michael, and Samuel. John truly enjoyed the art of a good dad joke whether his kids giggled, belly laughed, or just groaned and rolled their eyes. He had the innate ability to make them laugh no matter the situation. If they got in trouble, you could bet that he would be right back to give them a hug. He always made sure that they knew they were loved no matter what.
John has 8 grandchildren; Silas, Simeon, Adoniah, Solomon, Surion, Cecilia, Leland, and Sylvia. They lovingly called him Crappa which always drew a laugh. He loved making up bedtime stories, just as he did with his children– – none ever the same. He had the ability to rock any child to sleep and he often used it as an excuse to take a nap with them.
John attended Central College where he met his best buddy Les Flanders and continued his seminary at the University of Dubuque. He began his ministry as an associate pastor at the First Christian Church in Cedar Rapids and continued his ministry at the Kellogg Christian Church, Park Avenue Christian Church in Des Moines, & Woodlawn Christian Church in Lake City. He then became pastor at the First Christian Church in Visalia, California, which was nice for all the family because they could use his home as a vacation destination. He was the pastor at Fairview Christian Church and Pleasantville Christian Church where he started a youth group called Crosstown High with over 100 youth! He has been the pastor at Park Avenue Christian Church for the last 12 years.
John was currently in the midst of writing his dissertation to receive his doctorate from Dubuque Theological Seminary. We've read it. It's good.
John loved working with youth. He led camps at the Christian Conference Center in Newton for 38 years and was also a guest speaker at many other camps including Camp on the Rock and Summer Games. He never missed an opportunity to jump up and worship with the kids, line dances and all. He always said, "God is the audience! Let's praise God!"
He continued his love of singing and theatrics in his ministry. He was part of a clown ministry where "Leviticus W. Doorknocker" would always make an appearance. Several times "The Bible Hunter" would entertain the congregation. We have a feeling that Steve Irwin was one of his first hugs in heaven. Every year he would have Cowboy Church where he would portray another character, much like John Wayne. Cindy always said he was a mix of Billy Graham and John Candy. No matter what he was doing or where he was, he was the joy in the room.
One of his favorite ministers, Charles Spurgeon, said, "A Bible that's falling apart usually belongs to someone who isn't." John's Bible was literally duct taped together. He spent countless hours reading his Bible. You see, it wasn't just a book to him. Reading Romans 12 was his daily vitamin.
There is no way to count the number of people who met Jesus because of John or how many people will be in heaven because of him. He even took a trip to Kenya where 50 people gave their life to Christ in one service & several people were healed.
John will be remembered for his perfectly timed jokes and puns, for his powerful testimony, for his generous laughter and for his unwavering love for his family and friends.
John went to be with Jesus on March 18, 2020. His memory will be kept alive by his wife, Cindy; his children Jennifer(Michael) Koenig, Gabriel (Tara) Claussen, Michael (Morgan) Claussen, and Samuel (Marilyn) Claussen; his 8 grandchildren Silas, Simeon, Adoniah, Solomon, Surion, Cecilia, Leland, and Sylvia; siblings Ralph Winchell, Marge (Larry) Thomas, Dorothy Weyers, and Walt (Lori) Claussen; his mother and father-in-law Nancy and Larry Minner; brother-in-laws Dave (Shandra) Cox and Billy (Leslie) Cox; sister-in-law Samara (Jon) Cheely; many adoring nieces, nephews, cousins, aunts, uncles, and friends.
He was proceeded in death by his parents Ellis "Stub" and Pauline (Pierce) Claussen, his son Nathan; his brother Dick Winchell; and his in-laws Jack and Laurie Cox.
Many are wondering when John's service will be. As you might expect, the virus crisis is limiting us. When you love as well as John, it's literally impossible to have less than 10 people at a public memorial service. Because of this we are having a private burial service for our family. But, AS SOON as large gatherings are allowed again, we will have a huge public celebration of life service. Big, beautiful, with red balloons and cake and all of you. We know so many will want to show your love for John and his family. We are praying for all of your hearts, too. The body that carried him will be honored and placed next to his son, Nathan, in Kellogg, Iowa.
Here we sit in the aftermath together, wishing we could dissolve into a thousand pieces and disappear until the pain eases. But we can't. We have to press on. We have to preach the Gospel that John LOVED to preach: Jesus Christ crucified and raised from the Dead! We have to tell people that God is GOOD ALL THE TIME. We have to "Give them Jesus."
Listen: if it's not GOOD, then it's NOT THE END.
As John ended every Sunday: May the grace of the Lord Jesus Christ be with each and every one of us, now and forever more. Amen.
A public memorial service will be scheduled once large groups are able to meet together again.