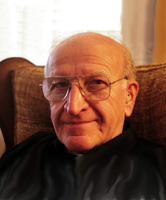 Earl M. Vogelaar
Earl M. Vogelaar of Newton, the son of Ferdinand and Gertie (Verros) Vogelaar, was born November 30, 1924 at the family farm in Richland Township, Mahaska County near Pella, Iowa. He was a graduate of Pella High School, class of 1941 and attended Central College, Pella, Iowa. During World War II, Earl proudly served his country in the U.S. Merchant Marine. Following this service, Earl attended Iowa State University, Ames, Iowa. Earl worked at Denniston & Partridge Company in sales and management where he met the love of his life, Betty June Wilsterman. Earl enlisted in the United States Army during the Cold War, and then was recalled during the Korean War, thus serving three tours of military duty.
Earl and Betty united in marriage on August 1, 1952 and were blessed with four children. Earl was a member of Community Heights Alliance Church where he served as Sunday school superintendent and board member, and helped build the new church. His memberships have also included Youth for Christ, Newton Chamber of Commerce, and the Korean War Veterans Association.
Ever handy, Earl demonstrated his skills by building his home and maintaining his cars. Always learning, he traveled with his family to the 48 continental states to visit national parks, state and national capitols, and military installations. Earl even audited computer classes at DMACC when he was 80. After retirement, he continued to manage and refurbish the Vogelaar Iowa Century farm where he was born, and visited family. With veterans, he participated in the Iowa Honor Flight to Washington, D.C. and the Republic of Korea Thank You Commemoration ceremonies with a side trip to China.
Earl Vogelaar was welcomed Home by his Lord and Savior, Jesus Christ, on November 28, 2019 from the VA Hospital, Lexington, Kentucky -- two days shy of his 95th birthday. He was preceded in death by his parents, and brother, Jerald Vogelaar.
Among those left to honor his memory include Betty Vogelaar, his wife of 67 years, daughters Mary (Greg) Sparks of Eureka, CA and Ruth (Lanny) Harris of Lexington, KY, and sons John (Janet) Vogelaar and Tim (Karmyn) Vogelaar of Nashville, TN; his ten grandchildren, Aaron (Emily) Sparks of Durham, NC, Alastor (Alaula) Arbor, Anna (Jay) Bishop of Lexington, David (Lindsey) Vogelaar, Christopher Vogelaar, Steven Vogelaar, Vincent (Emily) Vogelaar, Simone Vogelaar, Katrice Vogelaar, and Kristine Vogelaar of Nashville; and four great grandchildren: Anne and Margaret Sparks, Isla and Clark Vogelaar.
The funeral will be held at 10:30 a.m. Saturday, December 7th at Community Heights Alliance Church. All are welcome to visitation with Betty and her family at 9:30 a.m. at the church. Memorials may be designated to the Community Heights Alliance Church and may be left at the church or at Pence ~ Reese Funeral Home.