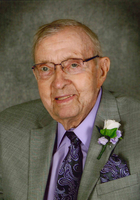 C. E. Pete Koppin
C.E. Pete Koppin
Clifford E "Pete" Koppin, 92, of Newton passed on June 13 at The Bridges of Ankeny. There will be no service and his cremains will be buried next to his beloved wife Pat at a later date, per his wishes. There will be a casual visitation held on Tuesday evening, June 18th, from 5:00 – 7:00 at the Pence Reese Funeral Home in Newton. In lieu of flowers, memorials will be accepted to the Jasper County Courthouse Christmas Lighting Fund and may be left at the funeral home.
Pete, the son of William and Clara (Olson) Koppin, was born on September 18, 1926 in Newton. He left high school his junior year to enter the United States Navy, during World War II. He was a 3rd class water tender on the USS Prometheus from January 1944 to May 1946. He received an honorable discharge in Faragut, Idaho. After the war, he joined the Newton Fire Department as a firefighter & worked there for five years. That is where he met the love of his life! On September 17, 1950, he married Patricia Schlotfeldt. They had 68 years together. After his days as a Newton Fire Fighter, he took employment at Dale Schlotfeldt's Oldsmobile and Cadillac dealership as Service Manager and later took over the used car lot. During his used car days, he also owned and operated Pete's Texaco. He later worked for State Bond and Mortgage Company out of New Ulm, Minnesota before owning his real estate company, Action Realty. His last occupation was as a general contractor building new homes in Newton.
Pete never held a city appointed position but liked to attend the city council meetings and offer his opinion. He was a member of the Iowa Fireman's Association, the Elks Lodge, Jasper County Historical Society and the Newton Community Theatre. He was also a member of the First Presbyterian Church in Newton.
Survivors include his son, Dale Koppin of Lutz, Florida; his daughter Barb (Steve) Roese of Johnston; his four grandchildren, Jeremy (Andrea) Koppin of Altoona, Nikki Marshall of Knoxville, Brandon (Samantha) Jackson of Newton and Stacy (Nick) Kuiper of West Des Moines; his nine great-grandchildren, Tyger, Levi and Kobie Marshall, Lydia and Milena Koppin, Khloe, Quinn and Boston Kuiper and Morgan Jackson; his two sisters-in-law, Greta Koppin and Darlene Koppin; several nieces and nephews; and one cousin-in-law Jackie (Jim) Black of Salinas, California.
He was preceded in death by his wife Pat in January 2019, his parents, his in-laws, his three brothers, Ray, Leo and Gene Koppin; and his brother-in-law and sister-in-law Bill and Marge Schlotfeldt.