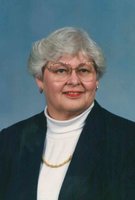 Janice Lee Hartgraves
Janice Lee Hartgraves, daughter of Marion and Florence (Bohne) Brantner, was born November 6, 1937 in Newton, Iowa. She graduated from Newton High School with the class of 1955.
On December 2, 1956, Jan married her high school sweetheart Dale Hartgraves. Jan retired from years of working as a bookkeeper and secretary at D&P Lumber Company, the Maytag Company, Lincoln Elementary school and the Newton Schools Administration Office.
Her faith was an important part of her life. She attended Newton First United Methodist Church and later became a charter member of St. Luke United Methodist Church in Newton where she and Dale raised their family. Most recently, Jan was a member of the Altoona United Methodist Church where she and Dale made many great friends. Among the longest standing groups she belonged to was her Mother's Club, formed many, many years ago and continues to meet though most are great grandparents now.
Jan's greatest passion was her family and she especially adored her grandchildren. Her face literally glowed when the family would gather. She enjoyed flowers and tending to them. She was an incredible cook, enjoyed antiquing and shopping.
At the age of 81, Jan passed away April 27, 2019 at Iowa Lutheran hospital in Des Moines, surrounded by her husband and three children. Janice was preceded in death by her parents.
Those left to honor Jan's memory include her husband of 63 years, Dale Hartgraves of Altoona, IA; her children, Greg (Kathy) Hartgraves of Bellingham, WA; Brad Hartgraves (JoAnn Auld) of Cedar Rapids, IA; Heidi (Harold) Rue of Ridgeway, IA and her beloved grandchildren, Matt (Andrea) Hartgraves, Annie (Jeff) Schulte, Tyler Rue, Riley Rue and her great grandsons, Noah Schulte and Owen Hartgraves. She was looking forward to welcoming a third great grandson in August of this year.
Funeral services will be held at 11:00 a.m., Wednesday, May 1, 2019 at the Altoona United Methodist Church. The family will greet friends from 5:00 until 7:00 p.m. Tuesday evening April 30th at the church.
Memorials can be given in Jan's name and left at the church in Altoona or at Pence ~ Reese Funeral Home in Newton.
Online condolences may be left at www.pencefh.com