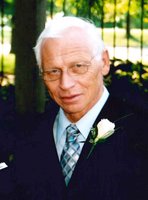 Vernon Eugene Versteegh
Vernon Eugene Versteegh, the son of Ben and Maud Versteegh was born November 12, 1940, near Reasnor, Iowa. He graduated from the Newton Senior High School with the class of 1959. On January 5, 1963, Vern was united in marriage with Marilyn Adams.
On March 7, 1981, Vern was united in marriage with Jayne Meissner Stockstell. Vern had worked for Barrett Bakery, Neisner's, Cycle Center, Inc., and at the Vernon Company as an offset press operator and cutter. In retirement, he worked at Wal-Mart, as a greeter. Vern enjoyed staying busy and spending time with his family and friends. He enjoyed motorcycles, mechanics, bingo, casinos, Wheel of Fortune, working crossword puzzles and following Iowa Hawkeye sports. Vern was a member of the First Baptist Church in Newton, the Newton Moose Lodge and the UAW Local #997 where he had served as the Vernon Union President.
Vern died on Saturday, December 1, 2018 at Skiff Medical Center in Newton. He was 78 years old. He was preceded in death by his parents; his brother and sister-in-law, Don and Mary; his sister and brother-in-law, Nadine and Ken Schwartz; a brother-in-law, Bruce Meredith and a nephew, Chad Meredith.
Those left to honor Vern's memory include his wife, Jayne; daughter, Lori (Craig) Samson; his son, Jeff "Burph" Versteegh; his step sons, Jeff (Heather Milam) Stockstell and Ryan Stockstell; his step daughters, Jodie (Curt) Main and Jennifer (Jamey Brown) Morris; his grandchildren, Matthew (Johnna) Samson, Kristin Samson, Amanda Main, Aaron Main, Colten Baird, Jordyn Baird, Aidan Morris, Cody Stockstell, Chase Stockstell, Ronnah Stockstell, Dylan Stockstell, Parker Stockstell; his three great grandchildren and three greats on the way; his siblings, Ken (JoAnn) Versteegh, Virginia (Larry Sparks) Meredith, Carl (Donna) Versteegh, Duane (Karen) Versteegh, Marvin (Barb) Versteegh, Mary Ann Versteegh, Shirley "Serge" Galli, Ken Meissner and Butch Meissner; and many nieces, nephews and friends.
Funeral services will be held at 10:30 am, Wednesday, December 5, 2018 at the First Baptist Church in Newton. The family will greet friends from 5:00 until 7:00 pm, Tuesday at the Pence ~ Reese Funeral Home in Newton. Memorials may be designated to the First Baptist Church or the Jasper County Animal Rescue League and may be left at the church or at Pence ~ Reese Funeral Home.